Strategy consulting by initio
Strategy development and strategy consulting – definition
The term "strategy development" describes a process in which the management of a company defines what goals it wants to what goals it – and how and when it wants to achieve them. A distinction is made between long-term, medium-term and short-term goals.
Achieving strategic goals usually requires a bundle of goals and measures that must be coordinated with each other.
Especially in larger organizations, it is therefore essential to systematize these goals and measures. A common systematization is the division into
Strategic goals
Overall objectives
Subgoals
and measures.
This systematization of strategic goals and measures can also be presented as a"pyramid of objectives":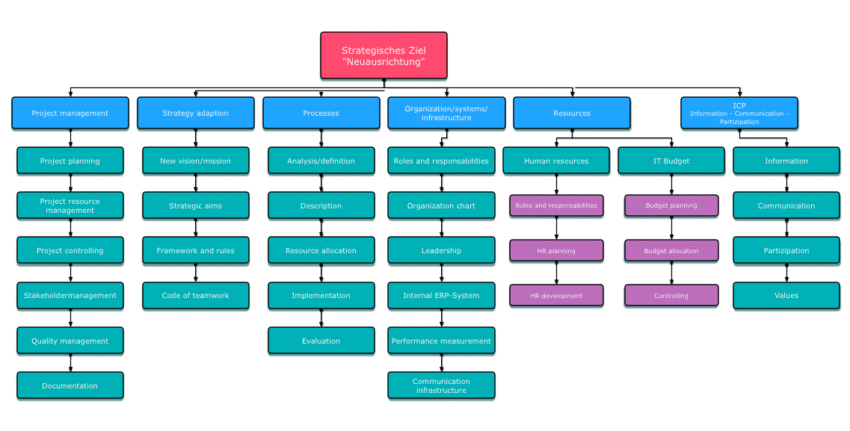 It is no coincidence that this representation is reminiscent of a classic organizational chart: the higher strategic goals are placed in the "goal hierarchy," the more likely it is that higher hierarchy levels are also responsible for their implementation.
Strategy development: A permanent management task
Due to the increasing complexity of the environment and disruptive markets, strategies today have to be adapted more and more quickly to ongoing developments in the corporate environment.
Classic strategy processes are often too slow and cumbersome for this purpose. Many executives have therefore asked themselves why detailed strategy processes are needed at all if the implementation steps developed are no longer relevant soon after strategic agreements are reached.
Agile strategy development
If markets and environmental developments change faster than strategies can be implemented, then traditional strategy processes are obviously not fast enough. In this case, strategy development in "agile mode" can be a suitable answer.
Here is an overview of the main differences between the two ways of working:
Klassischer Strategie-Prozess
Strategieentwicklung im agilen Modus
Das Top Management entwickelt Strategische Ziele
(Problem: Zeitknappheit)
Eine Stellvertretergruppe maßgeblicher Mitarbeitender übernimmt Strategieveranwortung
(Vorteil: Strategie-Kompetenz wird mit der Zeit breiter im Unternehmen verankert)
Führungskräfte aus Bereichen und Abteilungen arbeiten an strategischen Unterzielen
(Problem: Volle Kalender, das braucht oft viel Zeit)
"Strategie-Kreise" arbeiten stellvertretend für die Abteilung an der Anpassung der Bereichs-Strategie
(Vorteil: Die Verantwortlichen denken Strategie stets "mit")
Der Strategieprozess ist nach einem Jahr "abgeschlossen".
Strategiearbeit wird zum ständigen Prozess in kurzen Zyklen und somit tiefer verankert und angekoppelt ins "tägliche Geschäft".
Difference between strategy development in "classic" and an "agile" mode
The essential characteristics of agile strategy processes are:
A network of strategy managers is established across all levels of the company, who, besides their daily tasks, constantly have an eye on strategical implications of recent developments.
Strategy competence in the organization increases and expands beyond traditional leaders into competent team members.
Strategy processes take less time in significantly shorter cycles
It is not uncommon for strategy groups from the respective divisions and teams to collaborate across hierarchies and divisions. Delegation and decision-making principles from "circle organizations" (holocracy) are increasingly used.
Strategy development consulting
We are specialists in strategy development and strategy processes – both in agile and "classic" mode.
In strategy-processes we act in different roles:
as sparring partners
Strategy Coaches
By steering the overall process
Establish agile ways of working in strategy teams
Agile strategy consulting
Our range of services
Our approach to strategy consulting
Listen and understand
Reconciliation of goals and success indicators
Detailed offer with

Description of the "as-is" situation and proposal of proceeding
Implications and conclusions
Design of a process architecture or workshop design according to the criteria formulated above.
commercial offer
Competences, References

Proposal for the process architecture / workshop design
Planning and implementation of the process
Continuous adaptation of the process to recent results, new findings and developments during the course of the process
Conclusion of the process, review, joint "learning loop" ("lessons learned").
Strategy consulting Online, virtually or "classically
We offer our strategy processes or individual strategy workshops online or in "classic" mode. Get a free initial consultation!
Your benefits
Tailor-made solutions:


Best fit, because existing knowledge and experiences will be taken into account

High chance of turnaround and implementation:


Resistance to implementing the action plan will be low if key stakeholder groups were actively involved in the resolution-finding process.

Sustainable growth of your organization:


Knowledge and insights come from your company itself and will continue to develop, even if the consultants are "off board" again.

High acceptance of implementations – long lasting solutions:


Objections, concerns and further information were already taken into account in the solution process.

Competence growth:


More strategic responsibility in your time will lead to significant increase in competences and responsibility in your team

Improving your corporate culture:


Strategic action plans foster independent thinking and execution within your team

Facilitated strategy communication:


Bigger involvement of employees in strategic topics increases knowledge and reduces the effort required in communication of the strategy

Less resistence in implementation phase:


Possible complexities and challenges have already been discussed and evaluated by all relevant stakeholders and are taken into account in the solution implementation.

Sustainable strengthening of your company:


With our interactive methods, a strategy process accompanied by initio has a team-building and highly motivating effect.

Reducing Conflict:


We always ensure that all relevant information and perspectives are taken into account within the strategy-development process. Due to this approach, the participants gather different perspectives from all relevant departments. This knowledge has a lasting effect in future strategy-processes – understanding and coordination within other strategic areas will be significantly easier

Lower costs:


Solutions that are developed together internally will be a perfect fit and minimize resistance during implementation

Leaner process:


Shorter overall project duration, as executives share responsibility from the very beginning

Sustainable strengthening of the management team:


Knowledge is generated within the company and remains there even after the end of the process


Strategy development processes are an excellent development opportunity for new talent to show and develop skills
FAQ: Frequently asked questions about strategy development
Erfolgreiche Unternehmen profitieren von unserer Beratung:
Unser Strategie-Kompetenzteam 
Kostenfreies Erstgespräch
Noch nicht überzeugt? Testen Sie uns in einem kostenfreien Erstgespräch:
Wir wir erörtern gemeinsam Ihre Herausforderung
Wir zeigen Lösungswege auf
Bei weiterführendem Interesse erstellen wir ein Grob-Konzept 
Kalkulation der anfallenden Kosten
Hier bekommen Sie die Informationen, die Sie brauchen:
Kostenfreie Erstberatung!
Unser Angebot in Strategieentwicklung

Sie planen einen Strategieprozess oder suchen Beratung in der Strategieentwicklung?
Buchen Sie unsere kostenfreie Erstberatung.
Wir haben mehr als 19 Jahre Erfahrung als Berater in Strategieprozessen und beraten Sie gern!
Enthusiastic customer opinions:
In implementing our "we" strategy, the interactive conference design really helped us a lot. The high level of participation has given the management team important input for further implementation. The preparation was precise, the cooperation on site professional and very pleasant. Thank you!
The strategy workshop was extremely productive. You have always kept the group focused on the essential issues. We fully recommend your facilitation!
We are more than satisfied with the result. Thanks again for doing an excellent job! We hope to continue working with you!
After the workshops with initio, we can clearly see how we can develop and proceed further and which tasks have high priority now. Thank you very much for your support!