Team development with initio Consulting
Our services in team development
Clear responsibilities, meaningful distribution of tasks, motivating goals and well-rehearsed processes are the foundations of smooth cooperation. Conflicts arise whenever these important topics are not completely clarified and clear to all concerned parties.
In team development, we therefore pay particular attention to the following aspects:
Clarification of

mission, vision and goals

Working out an attractive vision of the future for working together

Clarification of structure and responsibilities

Joint development of meaningful processes

Communication channels and "error management"
Our team development approach
The most common causes of conflicts and deteriorating performance in teams are
undefined goals

lack of common self-image

lack of well defined processes

unclear responsibilities

interfaces lacking clear definition

missing "communication arenas" (such as team or leadershipmeetings)
Only when goals have been clearly defined, a common self-concept has been developed, and task allocation, decision-making competences and processes are clearly regulated, has the basis for best performance been provided. With our team development workshops, you will sustainably optimize collaboration and performance in your team.
Ein starkes Team entwickeln?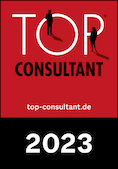 Umgehen Sie Fehler im Prozess
Vermeiden Sie unnötige Kosten
… mit 19 Jahren Erfahrung in vielen Branchen!

Ein starkes Team entwickeln?
Umgehen Sie Fehler im Prozess
Vermeiden Sie unnötige Kosten
… mit 19 Jahren Erfahrung in vielen Branchen!
Goals of team development
Responsibilities, roles and interfaces are clarified

common guidelines and goals are created

cooperation and common development are improved

conflicts are eliminated and avoided

troublesome topics of the past are resolved and do not re-appear
Your benefits
Strengthened team spirit and coherence

… through clear agreements and answers to relevant questions regarding the future

Teamwork that really works

… with clearly agreed responsibilities, processes and interfaces

Permanently resolved conflicts

… thanks to our professional facilitators and mediators

Avoiding future escalations

… with the help of our targeted coaching of the team leadership or manager
Erfolgreiche Unternehmen profitieren von unserer Beratung:
Kostenfreies Erstgespräch
Noch nicht überzeugt? Testen Sie uns in einem kostenfreien Erstgespräch:
Wir wir erörtern gemeinsam Ihre Herausforderung
Wir zeigen Lösungswege auf
Bei weiterführendem Interesse erstellen wir ein Grob-Konzept 
Kalkulation der anfallenden Kosten
Hier bekommen Sie die Informationen, die Sie brauchen:
Kostenfreie Erstberatung!
Unser Angebot in Teamentwicklungs-Prozessen

Sie suchen wirkungsvolle Teamentwicklung und kompetente Beratung zu Motivation, Führung & Zusammenarbeit?
Buchen Sie unsere kostenfreie Erstberatung.
Wir haben mehr als 19 Jahre Erfahrung in allen Teamfragen und beraten Sie gern!
Enthusiastic customer opinions:
I am very satisfied with result. The workshop has been a major step forward for us. Thanks so much!
Everyone was very satisfied with your facilitation. The agreements we achieved work wonders. The team workshop has been a great success!
Thank you very much for this team development process. I am glad that we booked your services.
The team-workshop was an excellent preparation for our strategy retreat.
Your vigilant and well-founded facilitation and inspiration helped us a lot. The team was also delighted!
You have been a real enrichment to our team development. Thank you so much!
In-depth articles