Online training or "on premise"
You can book the management seminar either online or as "presence training":
As a presence training it lasts 2 days
as an online seminar 8 units of 90 minutes each
Online Leadership Training: Be a Shaper of Change!
Times of change are times of opportunity. Like at no other time, you now have the opportunity to shape your environment according to your imagination.
Times of change are demanding at the same time. Your employees need guidance in these aspects:
Which strategy to follow?
How will it be possible to integrate innovation into everyday office life?
All the spotlights are on you. But how do you actually feel: Do you feel clarified, strengthened, armed in your attitude and your leadership skills?
A successful project needs an orderly start:
In the first module you clarify your own attitude to leadership and change.
You familiarise yourself with the situations you will encounter in the change process
and you lay out your leadership skills to keep your team together, empowered and moving forward as you move along together.
Agile leadership: do you want to remain convincing as a leader?
What's the deal with agility? Is it a new hype? Or is it more?
Agility is more than just another way to organize. It lives from a certain attitude . From changed role models. From Participation. From a new leadership model.
Agility provides adequate answers to the conditions of our time:
We need to come up with solutions faster and bring ideas to the market.
We have to convince our employees to make their expertise available to us.
And we need to get them to be happy to commit to us.
There is only one thing that managers no longer have to be: the most competent head among experts.
How agile leaders can legitimize their leadership claimand how their job description is changing over time is focused in the second module of our online seminar on leadership leadership development. We will elaborate on role models, self-direction, leadership and conflict resulution.
Building community in diversity
"We're all different. And that's a good thing!"
People are different. They may and they should.
How does change succeed in a diverse team? On top of that, possibly online, virtual and "remote"?
Clarify your personal skills and preferences:
"Am I a change guy?"
Classification, personality check,
Change curve and U-model: Be aware that change goes through different phases and that changing emotions are normal.
The manager as guide and mentor in the change process: Recognize the expectations that are directed at you.
Trust is the first functional level: Understand the trust of your team towards you and each other as a basis for the common way into the future.
Strengthening the inner bond in change
"Together we can do this!"
Employees want to be seen and heard. They want to be part of the whole. Once disconnected, employees distance themselves and are lost to change. That's why it's so important to stay in conversation with employees.
What connectedness means and how you as a leader can strengthen connectedness during change phases:
Embrace connectedness as a basic mental and emotional need.
Familiarize yourself with the various forms of resistance in a change process.
Learn about the eight stages of change according to John Kotter.
And appreciate conflict skills as a second functional level in Change
The manager as role model and creative moderator
"That looks good, doesn't it? I want that, too!"
In a change it is your task to prove yourself as a stable navigator in changing times. The transformative leadership model provides you with the adequate model for this:
From directives to the "guard rail": being a role model – and yet letting go in the right places.
Participate and lead from the future: Shape the team today that you want to work with in the future.
In the leadership dialogue, examine your image of the roles – yours and those of your employees.
Recognize engagement and accountability as the third functional level in a successful change process.
The manager as creative inspirer and mindful coach
"Quite demanding. But we can handle it."
Leading means demanding results. At the same time, however, you should have your ear to the grounds. Without a doubt, this is a tightrope act.
Everyone, including each of your employees, is asked to take responsibility for themselves. The widespread postulate of "healthy leadership" also reminds you to treat your employees with empathy and appreciation.
Reflect on the triad of power, leadership and personal responsibility.
Develop your concept of mindfulness and resilience and recognize its transformational significance.
Familiarize yourself with tools of self-direction.
Establish shared responsibility for results as the highest functional level.
Agile role competence in leadership
"When agile teams self-organize: What is my role as a leader?"
Purely authoritarian leaders are passé. Instead, managers today prove themselves in roles such as creative facilitator, networker, coach and personnel developer. Learn about the four faces of contemporary leadership:
What kind of leader will you be in the future? Reflect on your role and design your individual role set.
Define the level of agility that currently fits your organization and determine your roles as facilitator and networker
Be clear about how you support your employees' ability to work in agile settings, such as SCRUM, as an agile coach and staff developer.
Take a look inside and outside: become aware of your own role set and that of increasingly self-directed teams – looking at preferences, competencies and motivators.
Lead yourself
"How do I stay stable under pressure?"
Are you trying to get everything done that comes across your desk? Please don't! You will remain efficient by concentrating on the essentials and by respecting your possibilities and limits.
As a manager, you are always a role model for your employees. Make sure you stay in good shape and model personal responsibility – so your team stays healthy and productive, too.
Develop your personal approach to mindfulness.
Combine Stephen Covey's concept of the seven ways with the current techniques of agility.
Define your B quadrant in the Eisenhower model of time management and declutter your to-do list.
Recognize your impact on your employees from an agility perspective.
Leadership development training: The myth of high performance
"Aren't we all human?"
What's the deal with "top teams"? Are they an expression of an overly excited management debate? Or does it really exist? And if so, what counts along the way?
Your situation in the team: Be clear about the directions in which your employees are striving.
Gain an overview of the (psycho)logical levels of motivation.
Get a new picture of a team's performance curve.
Adopt experiences from sports where useful and appropriate.
Leadership training: Conflicts and negotiations
"Conflict is a real power robber! Aren't they?"
At first glance, conflicts and negotiations are unpleasant. They challenge you. But if you understand the nature and dynamics of conflict and approach such situations correctly, you will recognize their potential as drivers of innovation.
Conflict dynamics: learn to appreciate conflict and take a positive view of it.
Analyze which conflict types and escalation levels you encounter, especially in agile processes.
"Win-win": recognize proven and new qualities of the Harvard model of negotiation.
What type of conflict are you? Recognize your own conflict preferences and those of your team. What options result from this?
This is what you should know about our leadership training
Target group: Managers who want to take their leadership skills to a new level.
Module 1 and Module 2 build on each other and form a unit.
Two individual coaching sessions on your personal profile are included as well as accompanying materials, literature and links.
You can schedule the two coaching sessions whenever you see fit. It is conceivable that you will put your newly acquired knowledge into practice after each of the online phases and reflect on it in a coaching session. Make your choice.
You will also receive a personality profile according to Profile Dynamics® (no additional costs).
This leadership development training can be booked as an online seminar or "on premise".
The coaching sessions take place online or in person – depending on the agreement.
Führung-Kraft entwickeln?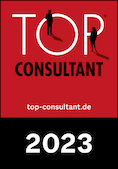 Neuestes Führungs-Wissen
Schnelle Lernerfolge
… mit 19 Jahren Erfahrung in vielen Branchen!

Führung-Kraft entwickeln?
Neuestes Führungs-Wissen
Schnelle Lernerfolge
… mit 19 Jahren Erfahrung in vielen Branchen!