Our range of services
initio Consulting are specialists in large-group processes such as
Open space conferences

Workshops in World Café format

Future Search

Future Conferences

Real Time Strategic Change

Appreciative Inquiry

Fishbowl Method
Our approach
The main task that underlies most of the communication processes we design, is to interest groups of up to several hundred participants in a topic, to network them and to inspire them to act together. We have experience in large-group events of (so far) up to 850 people. Depending on the topic and objective, we will design a suitable large-group structure for your event also, with which you can achieve your goals in the shortest possible time.
If required, in addition to the content planning, we can also take care of
preparation and evaluation

facilitation

detailed and meaningful documentation

planning of the infrastructure

complete participant support

efficient coordination of all external service providers

assembly and dismantling
When it comes to content planning, we not only use tried-and-tested standard formats, but also create large-group designs from elements of tried-and-tested processes that are specifically tailored to your needs and objectives. With the experience of more than a hundred large-group events, we are able to create a meaningful combination of informative, interactive and practical modules in order to provide optimum framework conditions for the participants to guarantee networking, joint action and knowledge transfer.
Workshop, Großgruppe oder Konferenz geplant?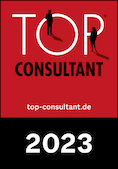 Interaktive, aktivierende Formate
250 erfolgreiche Veranstaltungen
... und 19 Jahre Erfahrung in vielen Branchen!

Workshop, Großgruppe oder Konferenz geplant?
Interaktive, aktivierende Formate
250 erfolgreiche Veranstaltungen
... und 19 Jahre Erfahrung in vielen Branchen!
Interactive and activating conferences
Our interactive large-group processes have also proven their worth at specialist conferences, meetings and trade fairs. Wherever it is a matter of networking the knowledge and experience of the participants and developing insights and strategies from these, we would advise working in interactive workshop settings. With interactive modules and proven activating methods used in large-group facilitation, we ensure
that participants work jointly in an intensive and interactive way on questions of strategic importance and relevance for the future

networking of the expertise and experience of the participants and generation of new knowledge

networking among the participants

the development of a coordinated action plan
Your benefits
Professional facilitation and implementation

Experienced facilitators ensure that even large groups reach their goal in a short time

Time-saving

Complex questions can be dealt with within a short time

Increased implementation speed

Assumption of responsibility and

motivation

for implementation is optimally supported

Accelerated cognitive processes

Using interactive methods, the experience and knowledge of the participants are optimally networked

New knowledge emerges

Knowledge of employees and participants is actively integrated into the cognitive process

Faster learning processes

Joint learning is facilitated through the systematic exchange of knowledge

Increased speed of implementation

Through the involvement of all relevant stakeholder groups, participants are motivated for the implementation process

Highly detailed solutions

All options become visible and the right solution with all necessary details is worked out

Contemporary methods

Joint learning and increase of knowledge are optimally promoted

Reduction of complexity

With the right methods, even difficult and highly complex questions can be answered within a short time
Erfolgreiche Unternehmen profitieren von unserer Beratung:
Kostenfreies Erstgespräch
Noch nicht überzeugt? Testen Sie uns in einem kostenfreien Erstgespräch:
Wir wir erörtern gemeinsam Ihre Herausforderung
Wir zeigen Lösungswege auf
Bei weiterführendem Interesse erstellen wir ein Grob-Konzept 
Kalkulation der anfallenden Kosten
Hier bekommen Sie die Informationen, die Sie brauchen:
Kostenfreie Erstberatung!
Unser Angebot in Grossgruppen und interaktiven Konferenzen

Sie planen eine Großgruppe oder brauchen kompetente und erfahrene Unterstützung bei einer interaktiven Konferenz?
Buchen Sie unsere kostenfreie Erstberatung.
Wir haben mehr als 19 Jahre Erfahrung in Großgruppen und beraten Sie gern!
Enthusiastic customer opinions:
In implementing our "we" strategy, the interactive conference design really helped us a lot. The high level of participation has given the management team important input for further implementation. The preparation was precise, the cooperation on site professional and very pleasant. Thank you!
We have received outstanding feedback regarding the conference. We can continue to work with the results very well. Thank you very much for your commitment!
You played a very big part in the success of our event. Without your support we would have had a much harder time "selling" your innovative approach internally. Thanks so much!
A good and very helpful workshop! The results helped us very much in the restructuring phase, too.
The Open Space format was a powerful and successful kick-off for our change process. The ministry was also thrilled!
After the workshops with initio, we can clearly see how we can develop and proceed further and which tasks have high priority now. Thank you very much for your support!
More on large-group facilitation