Consulting on all topics of organizational development
Our consulting services:
Consulting Organizational Development: Typical Topics
Processes and process optimization
Online, virtual & "classic" consulting
We offer all workshops and consulting processes around organizational development online/virtually and also "classically" as a presence workshop. Our online procedures are also proven and fast. Ask us for a free initial consultation!
Get your free initial consultation here!
High professionalism
As a management consultancy for all topics related to organisational development and change management, we know what it takes to develop a highly effective and vastly functional organisation.
We have received several awards for the quality of our services of and customer satisfaction.
Consulting fields in detail:
Strategy development

Implementation of effective strategy processes
Facilitation of strategy workshops

Innovation
Mission statement development
change management

Project development, project management
Implementation consulting
Implementation of strategies, realization of goals

Team development
Leadership development
Culture change and cultural transformation
Process management and process optimization

Optimization of procedures, interfaces, processes

Large group facilitation

Organise communication processes between stakeholder groups and groups of participants

Cooperation Management

Foundation, further development and professionalization of networks, establishment and expansion of cooperations
Instruments of organisational development
Design and implementation of effective change architectures

"Who works in which order with whom regarding which topics".

Facilitation of workshops

Workshops on conflict solution
Workshops for interface optimization, process optimization
Innovation workshops
Design Thinking Workshops
Executive Conferences
Moderation of interactive workshops and conferences
Moderation of specialist conferences

Moderation of large groups – large group procedures
Get your free initial consultation here!
Consulting in organizational development: Dialogical and participatory
Strategic corporate development needs space and time.
And smart people who work together jointly to find the best possible solutions.
In order to find solutions for complex future issues, the knowledge and experience of all relevant stakeholders is needed.
Discursive development approach
Organizations are divided into business units, departments and functions. These organizational units pursue their specific tasks and thus develop their own interests, which they must protect in order to fulfill their mission.
Therefore, each part of the organization interprets the goal of the company in its own way. In this context, perceptions are usually interest-driven and not necessarily oriented towards a common goal.
These different views conflict at the interfaces of the process organization. Conflicts and sometimes severe frictions can be the consequences that are part of the daily routine in many companies.
Due to the different views, understanding and collaboration can become difficult. What seems rational to some is far from comprehensible to others.
A common ground and understanding must achieved in between relevant stakeholder groups. In these agreement processes, the different parts of the company agree on common solutions. This requires well steered discourses across hierarchies and beyond classical "silo structures".
As experienced consultants in organizational development, we have the necessary background knowledge and proven formatsto solve all these issues.
Countercurrent approach
However, it doesn't help much to let employees determine the company's course "bottom-up". Then, as a rule, only the existing is continued.
Similarly, understanding in complex organizations cannot be ordered "top-down". When it comes to important issues , you need the knowledge, experience and input of several business units to arrive at viable solutions.
Understanding must therefore be reciprocal: With content framing "from above" and stakeholder expertise "from below":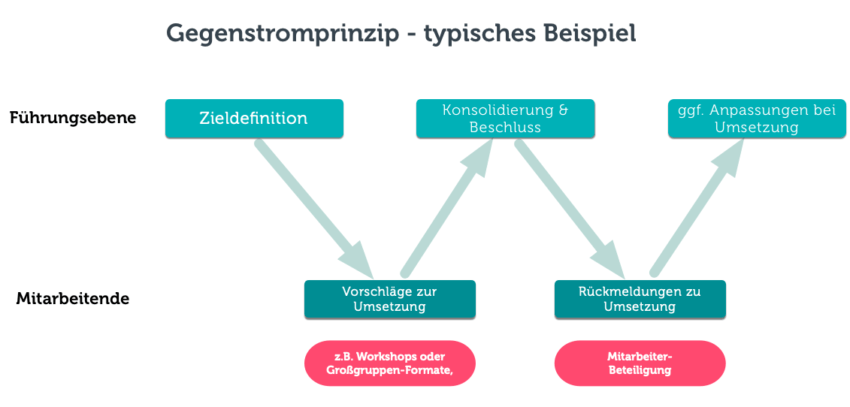 At the same time, this discursive approach leads to the stakeholders taking ownership and engagement in order to work out best possible solutions.
Facilitate mutual understanding as a management task
When it comes to landmark decisions, the question is not what it costs to find solutioins – but rather how much it will cost not to find common ground…
Thomas Sattelberger, ehem. Telekom-Vorstand
agreement on
the"right direction"
a target-oriented implementation strategy
a planned approach to the challenges of the future
is a central management task. We strengthen our clients in this process by planning and moderating the necessary solution finding processes.
Consulting in agile mode / Agile organizational development
More complex organizational development projects often need a step-by-step approach. Even though an "agile transformation" is the goal of the re-organization, we work in "agile mode".
This means: We apply agile principles in the consulting process. For this, we have written a separate article on agile organizational development.
Effective process architecture
The essence of effective organizational development is discourse.
With this approach
the appropriate stakeholders find solutions
for relevant issues
in a coordinated, sensible sequence
in effective and captivating formats
In order todevelop suitable solutions, we develop an effective process architecture at the beginning of each consulting process. Here is an example from a (real) change project in a sales department of a German medium-sized company: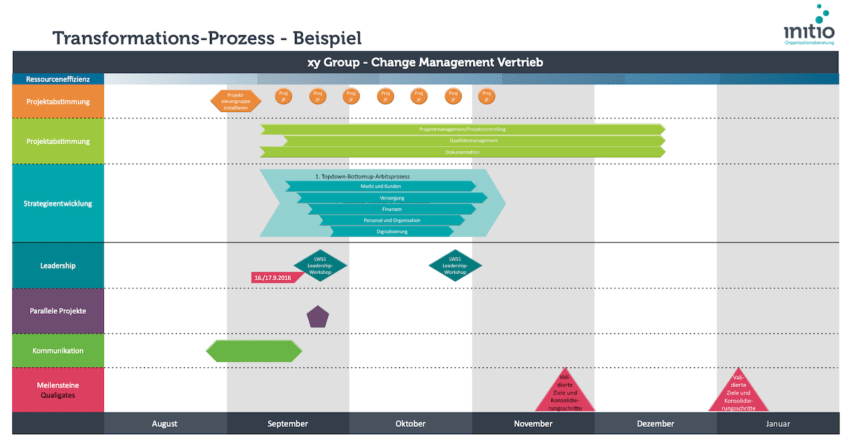 Our guiding principles in OD consulting
As a consulting firm for all topics related to organizational development, we generally work according to a few principles that have proven themselves time and again in our consulting practice over many years:
We work with the forces that exist in the company, not against them. Change succeeds when the forces within the organization are harnessed as the driving forces of change.
We understandresistance in change processes as a healthy force that informs about the true needs of the organization or individual employees. We distinguish well-founded objections from resistance and work with both impulses in such a way that they become supporting forces within the change process.
We try to strengthen our clients' organisations at all times and support the assumption of organisational and personal responsibility in the change process. Based on our ethical principles, we avoid dependencies and promote learning processes wherever we can. At the same time, we never leave our customers alone with their challenges. We offer full energetic and sometimes "hands on" support when it is needed and makes sense.
We do not perceive frictions and similar phenomena as isolated incidents, but always as the by-product of other effective factors. These need to be examined and taken into account while planning the next necessary steps, driving towards tangible solutions We assume that every action never has only one effect in the system, but may cause unwanted and unpredicted side-effects We are aware that systems are not entirely controllable and always develop a momentum of their own that is not always predictable. Nevertheless, we are experienced and prudent helmsmen who stay on course, even in rough seas and heavy drift.
We offer our clients to discuss these developments with us from an entrepreneurial and systemic point of view and always include you in the planning of the next steps.
Each employee has her/his own story. We treat the organizations we work with with respect. Our clients always know their organization better than we do. Nevertheless, we have our own external perspective . We recognize this as a value in itself from which our customers can benefit.
Our approach to organizational development consulting
Mission and context clarification
If applicable, supplemental Interviews
Summary and reflection of results, conclusions and working hypotheses
Formulation of goals and desired effects
For larger projects: Development of an attracitive and motivating "change architecture"
For workshops and brief interventions: Development of workshop designs
Facilitation of workshops
(Interim) evaluation of the objectives and impacts achieved
If necessary, readjustment of the project
Final evaluation and analysis
Debriefing
Advantages and effects of our approach
With our discursive consulting approach to organizational development, we ensure that
The existing knowledge in your organization is used and fostered
That your managers take responsibility right from the start and can help shape the change
your brightest minds see a motivating future perspective with you even after the Change
The changes are accepted and implemented with creativity
Get your free initial consultation here!
FAQ: Frequently asked questions about our consulting in organizational development
What does consulting in organizational development involve?
Organizational development encompasses four main areas: Strategy & Change, Leadership & Teams, Structure & Processes, Corporate Culture & Mission Statements. Here is a complete overview of all detailed questions and topics.
How time-consuming is the consultation or how much does it cost?
It depends on what the issues are ultimately. Many issues can be dealt with very effectively with 1-3 days of counselling. In a free initial consultation we will give you a first assessment.
What distinguishes initio in OD consulting from competitors in the field?
Among other things, these factors: Expertise in content and experience, excellence in craftsmanship, our focus on the dimensions of content, social interaction and timing of development processes, our efficient approach – and certainly our outstanding references.
References
Many companies have already benefited from our 19 years of experience in consulting projects. Here you can see an excerpt of our references from consulting in organizational development:
–> Consulting in organizational development
Free initial consultation!
Our offer in organizational development

Development needed within your unit, team or organization?
Book our free initial consultation.
We have more than 19 Jahre experience in organizational development processes and would be happy to advise you!
Enthusiastic customer opinions:
A very efficient process that produced valuable insights and results. I am curious about the process moving forward.
Thanks again for the really excellent advice! This doesn't happen often in the given quality.
The cabinet of the minister and the department are happy with the very good cooperation, which is characterized by trust, reliability and great empathy!
Your keen analytical power was very impressive and helpful.
Thank you very much for your phantastic support. We have really progressed a big step forward with your help.
After the workshops with initio, we can clearly see how we can develop and proceed further and which tasks have high priority now. Thank you very much for your support!
Further articles on consulting topics in organizational development